Some decent bike progress this week, with
BBSTPS MkIII Evo
becoming BBSTPS MkIII Evo
Gran Sport
with its new wheel (thank you
Bryan
), though it is a bit more involved than it should be. The Spooky is also getting ever closer to being a bicycle.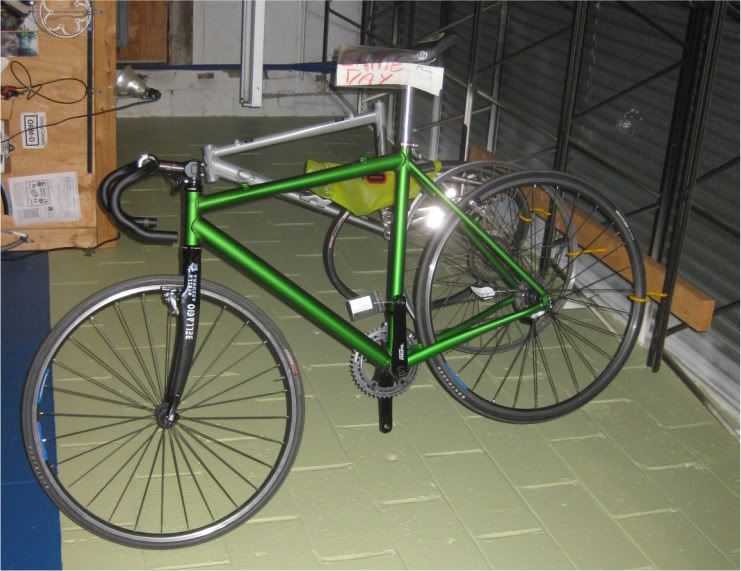 Jesse also did
some Ultimate Stunting
I got
my new receiver
, and while it technically fits in my TV stand, it's a squeeze in, and given the heat generated by its operation, it would likely
self-imolate
, which despite the flames and music involved, would not count as a rock and roll way to go.
Making matters worse,
my TV
(which weighs 160 lbs) is causing
the stand
(rated to 143 lbs) to bow slightly, which doesn't seem a safety issue, though it does disrupt the minimalist flow with its adopted ornamental curvature. Sigh.
As though to prove last week's assertion that Newton has the worst drivers in the world, a few more examples presented themselves to be documented since then, though sadly the
Bangle-butt 7
parked on the sidewalk across the street was gone by the time I was back with my camera. First, There was an
Infiniti G35 in the perpendicular non-spot
in front of the store.
In something of a deranged dueling banjos response, this Mazda was parked perpendicular to the building about half a store away from the front door. Presuming the inconvenience of two doors and three spots rendered useless had to have a reason, the owner of this car must have meant for this to be a dadaist effort, disrupting the established order of commercial parking lots. Lines will not hold them back.
This week's video is one of two women on a bicycle. I wonder if this is UCI sanctioned.
Now I know what people do when they have their bars set up like that.