On Thursday I went on my first longish road ride in a while, and while it was threatening rain the whole time, it never materialized, and it just stayed muggy and humid. It was a nice ride though, about 60 miles, most of which was just the same route I always used when I was living in Brookline.
On Friday I was given a ticket to see a show at
Club Passim
in Cambridge. I had never been there, but I had nothing else to do between 8 and 10, so I went. There, I saw
Robbie Fulks
, who I had previously not been familiar with, and he put on a great show of excellent
twangy music. He even did a special rendition of Billie Jean.
Thom
's getting married, so Greg "The Leg" Montello organized a pub crawl on bicycle all over Cambridge and Boston. We started at
Redbones
, where I had a great big messy pulled chicken s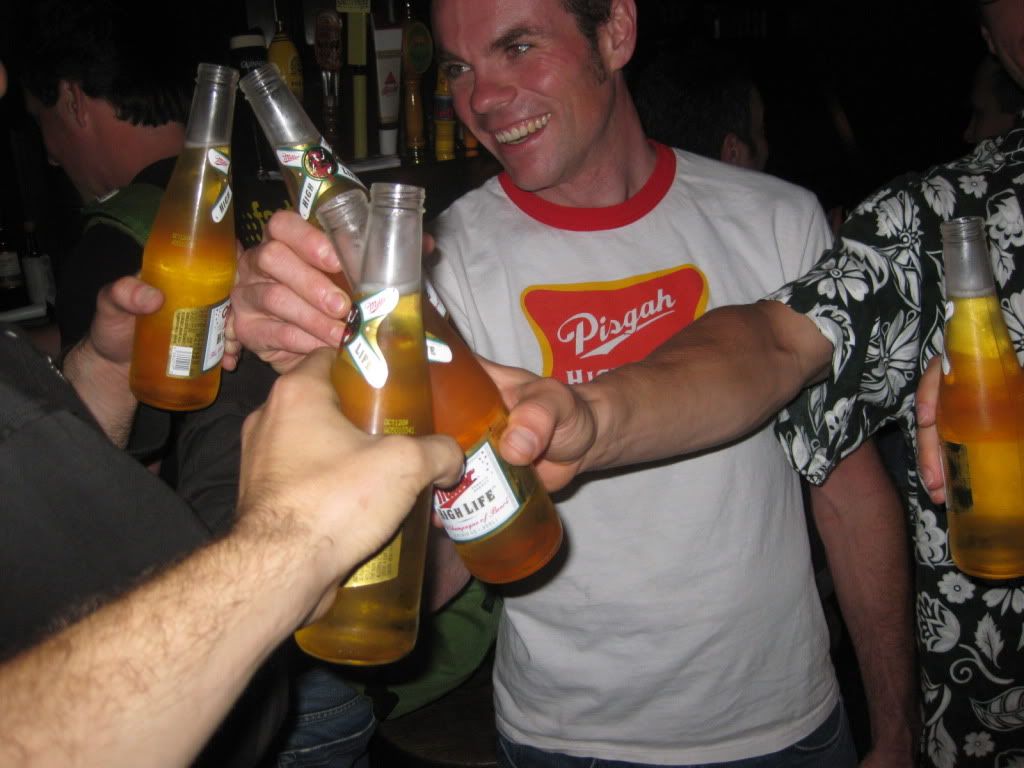 andwich. It was quite good, especially after I was urged to close the open faced sandwich by someone who had noticed my confusion with the arragement. After that, we rode to all manners of watering hole and, had all manner of refreshment on the way, including a cocktail whos name escapes me and something that tasted just like
Fresca
. We finished the night at the
Blue Diner
, where we had breakfast food at 3am. It was a lot of fun, lots of people rode on the back of the Africabike (pictures were taken, but I'm not sure by who exactly), and even
Bryan
was there!
I know it's been covered, but I'm still taken aback by the number of celebrities that have
been dying all over the place. Especially in the cases of Michael Jackson and Billy Mays, who strangely enough were both 50 when they went, their presences seemed like they should have just continued forever in one way or another. Arguably, given that MJ's significant work came about over 15 years ago, the full extent of his influence and significance was already out there, and his demise marks just one of the possible endings to his "whatever happened to..." story, but what of Billy Mays, who seemed like he was just hitting the prime of his career?
In honor of those simpler times, here's an ad for L.A. Gear, starring Mr. Jackson.
Given the company's affinity for
almost surreally 80's ads
, is it any wonder they collapsed in the 90s?